Will Duffy debated a newcomer Calvinist 11/2019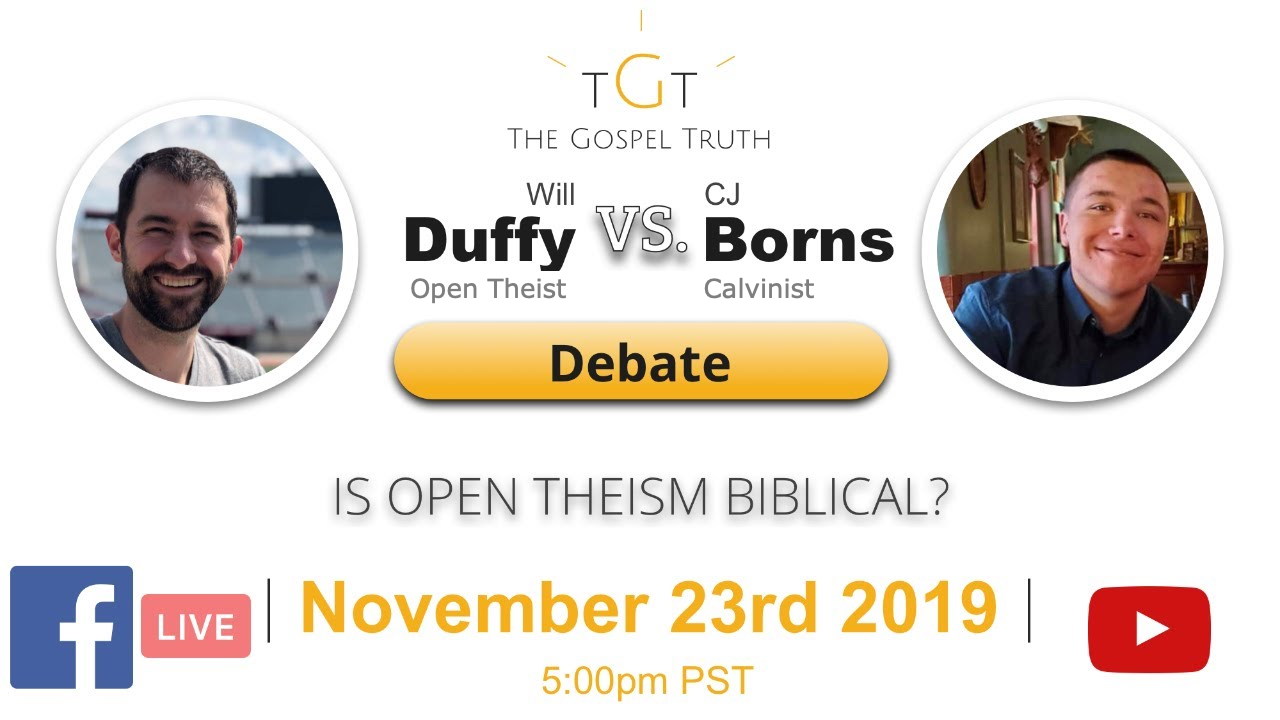 This event provides an insight that many other debates cannot. Have you ever wondered about the average Calvinist, that is, the non-theologian, who dutifully believes what he's been told about God and the Bible? Will Duffy's debate here provides insight into thousands or perhaps millions of Calvinist believers who themselves have minimal familiarity even with their own belief system and only have a distorted caricature of open theism, based on what they've been told. Of course, Duffy was respectful and gracious toward CJ Borns. Something that has come across in most of our debates though was present here also. You can hear the non-open theist say that if God had a truly free and functioning "will" that He could not be trustworthy. We've noticed that Calvinism undermines a believer's relationship with the Lord into one that trusts the God's supposed inabilities rather than His active love and commitment to righteousness. They ask, incredulously (as though the open theist position were the philosophical one, and theirs the biblical one), "How can you possibly trust God if God is free?" Will Duffy's answer paraphrased Scripture. "God demonstrated His love toward us, in that while we were still sinners, Christ died for us." That is how we know that we can trust Him. Not because of any supposed attributes of impassibility, immutability, impecability (which are inabilities and the attributes of a stone idol) but we can trust Him because God has demonstrated His trustworthiness and faithfulness (which are not inabilities but positive attributes). 

Prior Debates:
The Will Duffy / Matt Slick Calvinism vs Open Theism Debates
December 1st & 2nd, 2017
The first debate: Is Open Theism a Proper Representation of the God of Scripture? See the list Will Duffy mentions at opentheism.org/verses and from the Slick/Duffy open theism debate page you can watch their debate while following along with the transcript of Will's opening statement:
The second Slick/Duffy debate is titled, Does Calvinism Present God as Good and Loving? You can also follow along there with the transcript of Will's Calvinism opening statement... 
12/1: Open Theism: youtu.be/JCNPmLIOnDg
12/2: Calvinism: youtu.be/XDA-_SP3J9Y

Enyart vs. White: We can trust God with free will. Open Theism is the Christian doctrine that the future is not settled but open because God is alive, eternally free, and inexhaustibly creative. From our recent James White vs. Bob Enyart Open Theism Debate, this 2-minute video documents the shocking aftermath involving R.C. Sproul Jr. and James White: 
* James White's 2015 Article: Six months later, James White wrote yet another article on this and as previously, he again failed to quote himself or R.C. Sproul Jr. in his defense of what they wrote. (A listener of both the BEL and Wretched talk shows had written Wretched's Todd Friel in January 2015 to ask him to urge his friend James White to retract his heretical denial of God the Son's two natures. Friel did forward the issue on to White, but insisted that there was nothing of this issue remaining to be answered.) However, on James White's Jan. 22, 2015 Facebook post, after initially blocking Enyart's question, Dr. White left this unanswered: "James White, do you affirm that the Second Person of the Trinity has both a divine and a human nature?"
See our official White vs. Enyart web page for the "Shocking Debate Aftermath" details or to watch the full debate.
---
More Open Theism Debates 
Is Open Theism a Proper Representation of the God of Scripture? Will Duffy vs. Matt Slick, founder of carm.org.

Is the Future Settled or Open? Samuel Lamerson vs. Bob Enyart. Dr. Lamerson is professor of New Testament and interim president of Knox Theological Seminary which was founded by the late D. James Kennedy. Since 1991 Pastor Bob Enyart of Denver Bible Church has hosted a daily talk radio program.
 

James White vs. Bob Enyart -- Open Theism: Is the Future Settled or Open? The OpenTheism.org team organized the July 8, 2014 debate between leading reformed theologian James White and OT proponent Pastor Bob Enyart held before a live audience in downtown Denver's historic Brown Palace hotel.

Chris Fisher Debates a Calvinist on God's ability to deceive, the nature of Jesus, and prophecy.

God is Open Aurora Colorado's Calvary Chapel pastor Ed Taylor and DBC pastor Bob Enyart informally debate on the radio about God being eternally free, inexhaustibly creative, and able to have new thoughts.

Will Duffy debates an Arminian Pastor Jaltus on the freedom that God had before creation.

Open Theism Debate The North American Reformed Seminary (TNARS) president Dr. Larry Bray vs. Colorado pastor Bob Enyart.

See also the open theism debates in the Journal of the Evangelical Theological Society.
---
Honorable Mention: Related Debates

Does Calvinism Present God as Good and Loving? Matt Slick vs. Will Duffy

Former Calvinist Austin Fischer debates James White on the British radio program Unbelievable. (mp3 audio right here)
Is Calvinism Biblical? debate between TNARS president Dr. Larry Bray vs. Bob Enyart which is hosted at TheologyOnline.com, the official forum of OpenTheism.org.
CARM's Matt Slick vs street preacher Jesse Morrell on The Great Calvinism Debate: Free Will or Unconditional Election. Slick is the Calvinist director of CARM, the Christian Apologetics and Research Ministry.
And Hear Also:
- The broadcast event, Liberty University's associate professor Dr. Richard Holland on God, Time and the Incarnation!
- Will Duffy on Denver radio discussing the film Calvinist and John Calvin Institutes, Book 1, Chapter 18. 

In Passing: For those who have been told that everything occurs by God's eternal decree, thus making Him the author of every thought and word, consider the following toy made in China, along with 1 Cor. 14:33 which states that, "God is not the author of confusion..."